gianni caravaggio
works
exhibitions
biography
press
publications
news
biography
Gianni Caravaggio born in 1968 in rocca s. giovanni (chieti), Italy, raised in Sindelfingen, Germany. He currently lives and works in Milan and Stuttgart.
He studied philosophy before moving back to Italy to attend the Academy of Fine Arts in Milan, where he is currently a professor of sculpture. A student under Luciano Fabro, Caravaggio shares with him a decision to renew the sculptural idiom by combining traditional materials such as marble with other, more unconventional ones, including talc, paper, and lentils.
He teaches Sculpture at the Brera Academy of Fine Arts. He has exhibited in numerous solo and group exhibitions in public and private spaces in Italy and abroad.
selected museum exhibitions
His most recent solo exhibitions include: iniziare un tempo, Museo Novecento, Florence, in November (2018), Sostanza Incerta, The Open Box, Milan (2017); About Things Bigger Than Us, Galerie De Expeditie, Amsterdam (2016); Finalmente Solo / Enfin Seul, Musée d'art moderne et contemporain de Saint-Etienne Métropole, Saint-Etienne (2014), Museum MAGA, Gallarate, (2014), and Scenario, Collezione Maramotti, Reggio Emilia, (2008).
His work has been exhibited in numerous group shows, among which: MASI – Museo d'Arte della Svizzera Italiana, Lugano, (2018), Collezione Acacia, Museo del Novecento, Milan (2016), Avviso di garanzia, Fuori Uso, ex tribunale di Pescara, curated by Giacinto di Pietrantonio and Simone Ciglia (2016), Il Pane e le Rose, Fondazione Arnaldo Pomodoro, Milan (2015), Ritratto dell'artista da giovane, Castello di Rivoli, Turin (2014).
public collections
Caravaggio's work is in many permanent collections, including Città di Torino, Torino and LAC, Lugano, among others.
shows at kaufmann repetto
il sole che filtra tra le foglie – the sun filtering through the leaves, 2017, solo show at kaufmann repetto Milan
To begin a time, 2018, solo show at kaufmann repetto New York
Sais, 2017, solo show at kaufmann repetto Milan
cinque proposizioni per un mondo nuovo, 2013, solo show at kaufmann repetto Milan
tessitore di albe, 2011, solo show at kaufmann repetto Milan
gianni caravaggio, 2008, solo show at kaufmann repetto Milan
spreco di energia assoluta, 2007, solo show at kaufmann repetto Milan
gianni caravaggio, 2005, solo show at kaufmann repetto Milan
gianni caravaggio, 2003, solo show at kaufmann repetto Milan
[ read more ]
Selected solo exhibitions
2022
Only the Heart Remains Young, MARIE 10, Berlin
Il sole che filtra tra le foglie, kaufmann repetto, Milan
(Solo il cuore resta giovane), Surplace, Varese
2021
Gianni Caravaggio. When Nature Was Young, Kunstmuseum, Reutlingen
2019
Più intimo a me di me stesso, Exchiesetta, Polignano a Mare
2018
Iniziare un Tempo, Museo Novecento, Florence
To Begin a Time, kaufmann repetto, New York
2017
Sais, kaufmann repetto, milan
Sostanza Incerta, The Open Box, Milan
2016
About Things Bigger Than Us, Andriesse & Eyck Gallery, Amsterdam
About Things Bigger Than Us, Galerie De Expeditie, Amsterdam
2015
Non poserò mai più i miei anni così sul tempo, Tucci Russo Studio, Torino
2014
Finalmente Solo / Enfin Seul, Museo MAGA, Gallarate
Finalmente Solo / Enfin Seul, Musée d'art moderne et contemporain de Saint-Etienne Métropole, saint-Étienne
2013
INVITO '14, ACACIA Prize exhibition, Spazio Vhernier, Milan
Cinque proposizioni per un mondo nuovo, kaufmann repetto, Milan
Sotto la superficie, la verità della concretezza dove vai via dalla luce mia mentre attendo un mondo nuovo, Spazio BASE, Florence
2012
project room, kaufmann repetto, Milan
2011
Tucci Russo Studio per l'Arte Contemporanea, Torre Pellice, Turin
Tessitore di Albe (Weaver of Sunrises), kaufmann repetto, Milan
2010
Sies + Höke, Düsseldorf
2009
Art statements, francesca kaufmann, Milan
2008
Collezione Maramotti, Reggio Emilia
francesca kaufmann, Milan
Già 39 anni su questo pianeta, Galleria d'Arte Moderna, Pesaro
2007
Attendere un mondo nouvo, Tucci Russo Studio per l'arte contemporanea, Torre Pellice, Turin
Already 38 years on this planet, Gallery Paul Andriesse, Amsterdam
Spreco di energia assoluta, francesca kaufmann, Milan
2006
Castello di Rivoli Prize, Castello di Rivoli, Turin
2004
e altri grovigli temporali, francesca kaufmann and Nike Studio, Milan
Cause, Tucci Russo Studio per l'Arte Contemporanea, Torre Pellice, Turin
2003
Tempo Drogato, francesca kaufmann, Milan
2002
Present/Future, Artissima, Turin
2001
What does your soul look like, Tomio Koyama Gallery, Tokyo
2000
New view, francesca kaufmann, Milan
1997
Giocami e giocami di nuovo, Casa degli Artisti, Milan
1995
Zeitspanne, Maichingen
Arcoditempo, Projectroom Il Corridoio, Milan
Selected group exhibitions
2023
Relazioni (im)possibili. Il fil rouge da Piero Manzoni a oggi, Museo della Stampa, Soncino
2022
Mutaforma. Mutazioni ceramiche del codice CZ, Alchemilla APS, Bologna
Vita Nova: arte in Italia alla luce del nuovo millennio, Villa d'Este, Tivoli
2020
Arte Povera Italian Landscape, Metropolitan Museum of Manila, Philippines
Vent'anni – Twenty Years, 20th anniversary exhibition, kaufmann repetto, Milan
2018
Noi e il MASI. Donazione Giancarlo e Danna Olgiati, MASI, Lugano
Nonostante questo buio, Spazio Siena, Siena
2017
Deposito d'Arte Italiana Presente, Artissima, Turin
The Open Box at Nesxt 2017, Park-Carlina, Turin
Mythologies, Palazzo Palmieri, Monopoli
Gianni Caravaggio | Stanislav Kolíbal, Jiri Svestka Gallery, Prague
La Lama di Procopio, Nuovo Spazio di Casso, Casso
EREMI – Percorsi tra arte, natura e spiritualità, Abbazia di Santo Spirito al Morrone, Sulmona
Urpflanze: la natura dell'idea, Palazzo Ducale di Massa, Massa
Moroso Concept for Contemporary Art, Museo Etnografico del Friuli, Udine
Solo Figli, Padiglione de l'Esprit Nouveau, Bologna
2016
Collezione Acacia, Museo del Novecento, Milan
Avviso di garanzia, Fuori Uso, ex tribunale di Pescara, pescara
2015
Uncertain Substance, Spazio A, Pistoia
La sottile linea del tempo. Opere dalla collezione Agi Verona, Fondazione Museo Miniscalchi-Erizzo, Verona
Au rendez-vous des amis, Fondazione Palazzo Albizzini, Città di Castello
Il Pane e le Rose, Fondazione Arnaldo Pomodoro, Milan
Desiderio, Museo l'Arca, Teramo
2014
Ritratto dell'artista da giovane, Castello di Rivoli, turin
La Gioia, La Maison Particulière, Bruxelles
Resonance(s), Maison Particulière, Bruxelles
INVASIONE DI CAMPO: L' ARTE ENTRA IN GIOCO, Juventus Museum, Turin
Wald-Caravaggio-Loher, Rolando Anselmi, rome; Galerie GMBH, Berlin
2013
Ritratto dell'artista da giovane, Castello di Rivoli, Turin
Non Profit & Profit, SpazioA, Pistoia
Airò Caravaggio Gennari Lohr, Tucci Russo, Torre Pellice
Song of my Self, Unosunove arte contemporanea, Rome
2012
Topografisches Pixel, Kunstfest Hohenkarpfen, Hofgut Hohenkarpfen, Hausen ob Verena
Gli Artisti Italiani della Collezione ACACIA, Palazzo Reale, Milan
(R)existenz, Fondazione Centro Arti Visive, Pietrasanta
2011
Arte essenziale, Collezione Maramotti, Reggio Emilia; Frankfurter Kunstverein, frankfurt
Cabinet, Milan
2010
Calm before the storm, PORT IZMIR 2 (Izmir Triennial), Izmir
la scultura italiana del XXI secolo, Fondazione Pomodoro, Milan
Linguaggi e sperimentazioni. Giovani artisti in una collezione contemporanea, MART Rovereto, rovereto
2009
La importancia del pez cebra, Pilar Parra & Romero, Madrid
Qui è altrove, Fondazione Malvina Menegaz, Palazzo De Sanctis, Castelbasso
2008
Sporgersi prego, Galerie Lange und Pult, Zürich
Energie sottili della materia, Academy of Painting, Bejing
2007
In cima alle stelle. L'Universo tra arte, archeologia e scienza, Forte di Bard, Bard
2006
Shape without form, shade without colour, paralysed force, gesture without motion, francesca kaufmann, Milan
L'immagine del vuoto. Una linea di ricerca nell'arte in Italia dal 1958 al 2006, Museo Cantonale, Lugano
Scirocco. Emanuele Becheri, Gianni Caravaggio, Giovanni Ozzola, Diego Perrone, Davide Rivalta, Künstlerhaus Palais Thurn und Taxis, Bregenz
Underlining, Tucci Russo, Studio per l'arte contemporanea, Torre Pellice
XII Biennale di Scultura di Carrara, Carrara
Premio del Golfo 2006, GAMeC La Spezia
La Giovine Italia, Pinacoteca Nazionale, Bologna
Young italian artists at the turn of the millenium, Galleria Continua, Beijing
2005
S.N.O.W, Galleria Tucci Russo, Torre Pellice
Moscow Biennale, Beyond The Ego. The Italian Project, Museum of Contemporary History of Russia
Light Sculpture / Scultura leggera, 503 mulino, Vicenza
Generations of Art – 10 years at FAR, Fondazione Ratti, Como
Ask the dust, Museo Civico, Faenza
2004
Art et Cartographie, Iselp, Brussels
Con cura, Museo Civico, Faenza
2003
Schnipseljagt, galerie muellerdechiara, Berlin absence/presence, berlin; Le Botanique, Brussels
Italianamente, Uks, Oslo,
Ratio, Galleria Civica, Monfalcone
2002
Nuovo Spazio Italiano, MART, Palazzo delle Albere, rovereto
Collezionismi, Palazzo delle Papesse, Siena,
Kiss me I'm Italian, Perimeter Editon Gallery, London
Full-Contact, GAM of Syracuse, syracuse
Per una mobilità fenomenologica della scultura, Galleria Pio Monti, Roma
2001
Leggerezza, Aktuelle Posizionen italienischer Kunst, Lenbachhaus
Laura Marcchetti, Gianni Caravaggio, Milan
Nuove Aquisizioni, GAM, Turin
Invasione Italiana, Permanent collection, GAM Syracuse, Syracuse
Cosa Arcana e Stupenda, Scultura Italiana, Centro d'arte e cultura, Sermoneta
Boom, Manifattura Tabacchi, Florence
Play>, Openspace, Milan
Paper, Galerie Borgmann / Nathusius, Cologne
P.S.1 Studio Program, Palazzo delle Esposizioni, Rome
Trading Spirit, TENT, Rotterdam
2000
Weihnachten 2000, Galerie der Stadt Sindelfingen, Sindelfingen
Tracce di un seminario, Viafarini, Milan
Più Vasto Del Misurato 2000, Link, Sassari
1999
Immagine Rinnovata, Antico Monastero delle Agostiniane, Monte Carasso
Più vasto del misurato, Microbo Erotico Projectroom, Milan
Mostra del corso superiore di arte visiva, visiting professor Haim Steinbach, Fondazione Ratti, Como
1998
Nuovo Paesaggio Italiano, Spazio Consolo, Milan
1997
Periscopio 1997, Centro Civico di Noverasco, Milan
1996
Per Piacere, (with Satoshi Hirose), Projectroom Il Corridoio, Milan
Forma, New Sculpture in Italy, Nuova Icona, Venice
Gallery Flux, Liège, Winchester Art Gallery, Winchester
The Gallagher Gallery, Dublin
1994
Io Caravagio e Colombo, Galleria A'Mo'D'Art, Milan
1993
Caravaggio, Colombo, Morandini, Westphal, Casa degli Artisti, Milan
Prizes and grants
2013 Premio Acacia, Associazione Amici Arte Contemporanea Italia, Milano, Italy
2013 Premio Internazionale Giovane Scultura Fondazione Francesco Messina, Casalbeltrame, Italy 2006 One Man Show, Art Brussels
2005 Castello di Rivoli Prize, Turin Premio Alinovi, Bologna
2004 Dieselwall Prize
2002 Special Fund Prize PS1, New York, Italian Studio Program
residence
2020
Casa degli Artisti, Milan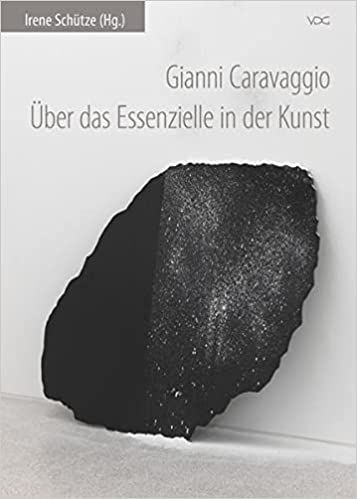 Gianni Caravaggio: Über das Essenzielle in der Kunst, 2011
VDG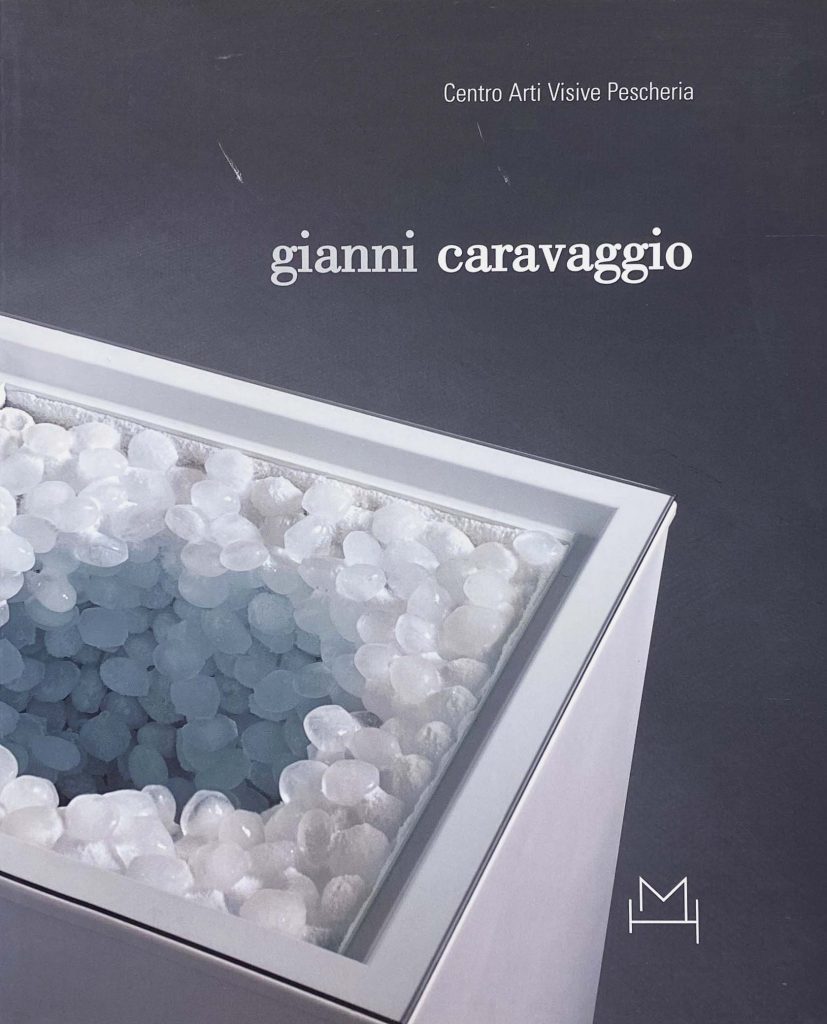 gianni caravaggio, 2008
centro arti visive peschiera – hopefulmonster editor