shannon ebner
works
exhibitions
biography
press
publications
news
biography
Shannon Ebner was born in 1971 in Englewood, New Jersey. Ebner lives and works in Brooklyn.
Shannon Ebner probes both the visual and audible tonalities of communication through her photography, sculpture, installation, and video. The various compositions of Ebner's writing imbue new understandings into the depicted words through pushing boundaries of form in diverse modes such as her photographic essays.
selected museum exhibitions
Recently, Ebner has held solo exhibitions including STRAY: A GRAPHIC TONE, Cantor Arts Center, Stanford University, CA (2019); A Public Character, the Institute of Contemporary Art, Miami (2015); Auto Body Collision, Fondazione Memmo, Rome (2014); Language Is Wild, Dia Art Foundation (2012); and Hammer Museum/LAXART, Los Angeles, curated by Anne Ellegood (2011).
Select exhibitions include the Liverpool Biennial (2018); 31st Biennial of Graphic Arts, Ljubljana (2015); Deagu Photo Biennale, Deagu (2012); the 54th Venice Biennale (2011); the 6th Berlin Biennale of Contemporary Art (2010); the Whitney Biennial, New York (2008); and The California Biennial, Orange County Museum of Art, Los Angeles (2006).
Her work has been exhibited internationally in group exhibitions including L.A. Exuberance: New Gifts by Artists, Los Angeles Museum of Contemporary Art, Los Angeles (2016); Storylines: Contemporary Art at the Guggenheim, Solomon R. Guggenheim Museum, New York (2015); Ecstatic Alphabets, curated by Laura Hoptman, Museum of Modern Art, New York (2012); and Learn to Read, curated by Vincent Honore and Maeve Polkinhorn, Tate Modern, London (2007).
public collections
Ebner's work is included in the public collections of the Museum of Modern Art, New York, the Whitney Museum of American Art, New York, Guggenheim Museum, New York, the Stedelijk Museum, Amsterdam, Bard Hessel Museum of Art, New York, ICA, Boston, MOCA, Los Angeles, Los Angeles County Museum of Art, Hammer Museum, Los Angeles, San Francisco Museum of Modern Art, and the Art Gallery of New South Wales, Sydney.
shows at Kaufmann Repetto
fret scapes, 2022, solo show at kaufmann repetto new york
A GRAPHIC TONE, 2019, solo show at kaufmann repetto Milan
Black Box Collision A: Gasoline & Auto Electric, 2014, solo show at kaufmann repetto Milan
Shannon ebner, 2010, solo show at kaufmann repetto Milan
[ read more ]
upcoming exhibitions
2023
Taylor Davis – Invisible Ground of Sympathy, Institute of Contemporary Art, Boston
selected solo exhibitions
2022
FRET SCAPES, kaufmann repetto, New York
Time Management Techniques: Photography from the Whitney's Collection, 1968 – 2019, Whitney Museum of American Art, New York
2021
Shannon Ebner / Rochelle Feinstein, Campoli Presti, Paris
2019
Wet Words in a Hot Field, Altman Siegel, San Francisco
A GRAPHIC TONE, kaufmann repetto, Milan
STRAY: A GRAPHIC TONE, Cantor Arts Center, Standford University, Stanford
2017
Stray, Galerie Eva Presenhuber, New York
A Pattern to the Letter, Rebecca Camhi Gallery, Athnes
2015
A Public Character, Institute of Contemporary Art (ICA), Miami
A PUBLIC CHARACTER, Sadie Coles HQ, The Shop, London
2014
Public Surface Pattern, Altman Siegel Gallery, San Francisco
Black Box Collision A: Gasoline & Auto Electric, kaufmann repetto, Milan
Auto Body Collision, Fondazione Memmo, Rome
The Electric Comma, Sadie Coles HQ, London
2013
A Language of Exposures, Wallspace, New York
A Hudson Yard, w. David Reinfurt, The High Line, New York
2012
Language Is Wild, Dia Art Foundation, Artists' Web Project
2011
Hammer Museum/LAXART, Los Angeles
2010
Signal Hill, Altman Siegel Gallery, San Francisco
Shannon Ebner, kaufmann repetto, Milan
Frieze Projects, with Dexter Sinister, London
2009
Invisible Language Workshop, Wallspace, New York
2007
Special Project: Shannon Ebner, MoMA PS1, New York
The Sun & the Sign, Wallspace, New York
2006
Art Rock, Rockefeller Plaza, New York
2005
Dead Democracy Letters, Wallspace, New York
2003
Margo Victor Presents, Margo Victor, Los Angeles
Selected group exhibitions
2022
Time Management Techniques, Whitney Museum of American Art, New York
that other world, the world of the teapopt. tenderness, a model, Kestner Gesellschaft, Hannover
2020
Vent'anni – Twenty Years, 20th Anniversary Exhibition, kaufmann repetto, New York
2018
A grammar built with rocks, One National Gay & Lesbian Archives at the USC Libraries, Los Angeles
Beautiful world, where are you?, Liverpool Biennial, Liverpool
mark, Team Gallery Inc., New York
Break in Transmission, Manchester School of Art's Holden Gallery at Manchester Metropolitan University, Manchester
A Page from My Intimate Journal (Part I) —, Gordon Robichaux, New York
2017
The Electric Comma, V-A-C Foundation, Venice
The Time. The Place. Contemporary Art from the Collection, The Henry Art Gallery, Seattle
Touchpiece, Hannah Hoffman Gallery, Los Angeles
A Pattwern to the Letter, Rebecca Camhi gallery, Athens
2016
l.a. exuberance: new gifts by artists, LACMA, Los Angeles
Evolutionary Travels, Fundación Arte, Buenos Aires
The Sun Placed in the Abyss, Columbus Museum of Art, Ohio
California and the West: Photography from the Campaign for Art, SFMoMA, San Francisco
Wasteland: New Art from Los Angeles, American Center and Galerie Thaddaues Ropac, Paris
Images that Speak, Satellite Gallery, Vancouver
Will and be going to, Altman Siegel Gallery, San Francisco
2015
Accompaniment, EFA Project Space, New York
Over you / you, The 31st Biennial of Graphic Arts, International Centre of Graphic Arts(MGLC), Ljubljana
All watched over, James Cohan Gallery, New York
Storylines: Contemporary art at the Guggenheim, Solomon R. Guggenheim Musuem, New York
Die Marmory Show II: Impoverishment, Deborah Shamoni, Munich
A Wild Party and a New Road, Altman Siegel, San Francisco
2014
Phantoms in the Dirt, MoCP – Museum of Contemporary Photography, Columbia College, Chicago
Soft Target, M+B Gallery, Los Angeles
New Dawn, Silberkuppe, Berlin
Industrial Worlds, MAST, Bologna
2013
Shannon Ebner, Adam Putnam, Rachelle Sawatsky, Galerie Mezzanin, Vienna
Ten Years, Wallspace, New York
Transmissions, Altman Siegel, San Francisco
New in the collection, The Israel Museum, Jerusalem
Selection from the collection of Martin and Rebecca Eisenberg, Riverview School, East Sandwich
Who Runs May Read, South London Gallery, London
2012
Things, Words and Consequences, Moscow Museum of Modern Art, Moscow Ecstatic Alphabets/Heaps of Language, MoMa Museum of Modern Art, New York
Deagu Photo Biennale, Deagau, South Korea
MARCH, Sadie Coles HQ, London
Affective Turns?, Pepin Moore, Los Angeles
2011
ILLUMInations, 54th Venice Biennale, Venice
Glee, Blum & Poe, Los Angeles
Vision is Elastic. Thought is Elastic, Murray Guy, New York
The Spectacular of Vernacular, Walker Art Center, Minneapolis
How Soon is Now, The Garage Center for Contemporary Culture, Moscow
The Smithson Effect, Utah Museum of Fine Art, Salt Lake City
September 11, MoMA PS1, New York
The Artist Theater Program, REDCAT, Los Angeles
The Air We Breathe, SFMoMA, San Francisco
2010
Prix Fondation Luma, Rencontres de photo d'Arles, Arles
6th Berlin Biennale of contemporary Art, Berlin
Papier Photo, Chez Valentin, Paris
Pleated Blinds, Petach Tikva Museum of Art, Tel Aviv
California Dreaming, Arte Portugal, Lisbon
The Page, Kimmerich, New York
All We Ever Wanted Was Everything, Elizabeth Foundation for the Arts Project Space, New York
At Home / Not At Home – Works from the Collection of Martin and Rebecca Eisenberg, Hessel Museum of Art, Bard College, Annandale-on-Hudson
2009
Time – Life Part II, Taxter & Spengemann, New York
Character Generator, Eleven Rivington, New York
Sundown, Office Baroque, Antwerp
Saints and Sinners, The Rose Art Museum, Waltham
A Wild Party and a New Road, Altman Siegel, San Francisco
2008
Catawampus, Midway Contemporary Art, Minneapolis
The World Is All That Is The Case, Hudson Franklin, New York
Untitled (Vicarious), Gagosian Gallery, New York
2008
Catawampus, Midway Contemporary Art, Minneapolis
The World Is All That Is The Case, Hudson Franklin, New York
Untitled (Vicarious), Gagosian Gallery, New York
2007
I am Eyebeam, Gallery 400 at the University of Illinois at Chicago, Chicago
Catawampus (for H.D.), Shane Campbell Gallery, Oak Park
Last Attraction Next Exit, Ridley Road, London
Shared Women, LACE, Los Angeles
Looking Back, White Columns, New York
Read me! Text in Art, Armory Center for the Arts, Pasadena
2006
Interventions, Thomas Solomon Gallery, Los Angeles
Psychogeographies, Glendale College of Art Gallery, Glendale Uncertain States of America: American Art in the 3rd Millenium, Serpentine Gallery, London
Cataract, Wallspace, New York
The California Biennial, Orange County Museum of Art, Los Angeles
Intersections: Atlanta Collects Photography, High Museum of Art, Atlanta
Shifting Tropologies, Herter Gallery, University of Massachusetts, Amherst
Locale, Margo Leavin Gallery, Los Angeles
Too Much Love, Angles Gallery, Los Angeles
Le Retour de la Colonne Durutti, Isabella Bortolozzi, Berlin
Trace, The Whitney Museum at Altria, New York
Chaos or Control, UCLA School of Architecture Gallery, Los Angeles
Aantekeningen, Expodium, Utrecht
2005
The Plain of Heaven, Creative Time, New York
Talk to the Land, Andrew Kreps Gallery, New York
Response, Morlan Art Gallery, Transylvania University, Lexington
Wordplay, Julie Saul Gallery, New York
Post No Bills, White Columns, New York
Sugartown, Participant Inc., New York
The Picture is the Problem, The Pelham Art Center, Pelham
Monuments for America, CCA Wattis Institute for Contemporary Arts, San Francisco, and White Columns, New York
Manufactured Self, The Museum of Contemporary Photography, Chicago
Uncertain States of America: American Art in the 3rd Millenium, Astrup Fearnley Museum of Modern Art, Oslo (travelling to venues in France and Poland)
2004
High Desert Test Site 4, Joshua Tree
Strange Animal, LACE, Los Angeles
Itineraries, Gallery Luisotti, Los Angeles
2003
High Desert Test Site 3, Joshua Tree
Sea, Jen Bekman, New York
2002
Anti-Form, New Photographic Work from Los Angeles, Society for Contemporary Photography, Kansas City
Project Room exhibition, Lemonsky: projects + editions, Los Angeles
2000
Graduate Thesis Exhibition, Yale University Art Gallery, New Haven
1998
Illegal Performance (an experimental-text-based performance), The Judson Church, New York
Pedestrian Union, St. Mark's Poetry Project, New York
Selected Curatorial Works
2017
Soil Erosion, Altman Siegel, San Francisco
2010
They Knew What They Wanted, Altman Siegel, San Francisco
2007
Blow Both of Us, Participant, inc., New York, curated with Adam Putnam
Public Collections
Art Gallery of New South Wales, Sydney
The Guggenheim, New York
The Hammer Museum, Los Angeles
Institute of Contemporary Art, Boston
Los Angeles County Museum of Art, Los Angeles
Museum of Modern Art, New York
Museum of Contemporary Art, Los Angeles
Stedelijk Museum, Amsterdam
The Whitney Museum of American Art, New York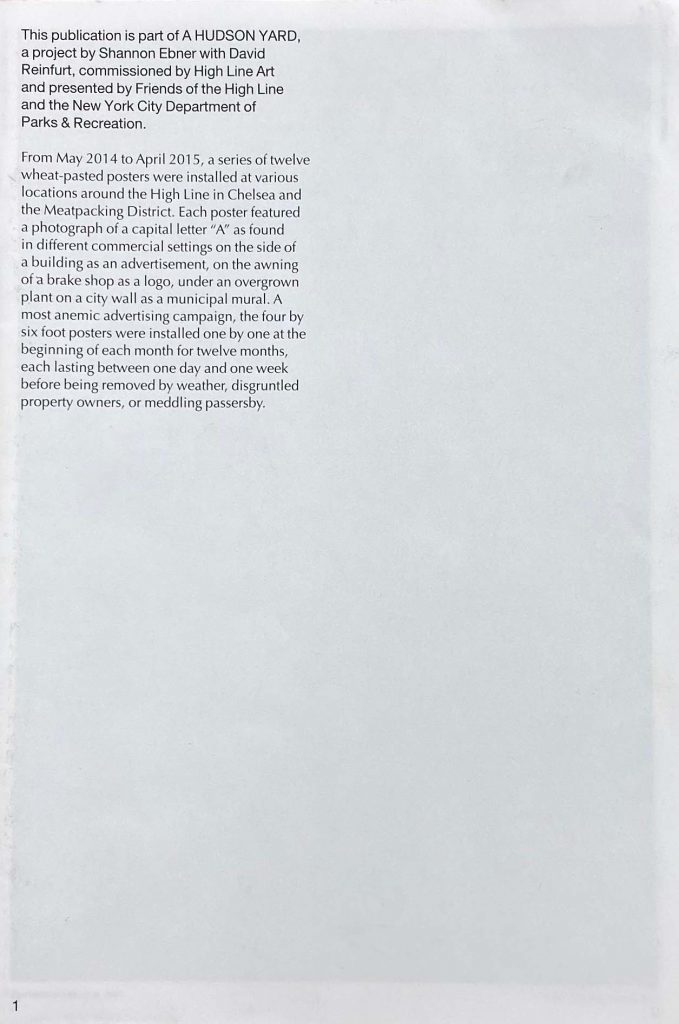 a hudson yard, in collaboration with david reinfurt, 2015
friends of the high line