thea djordjadze
works
exhibitions
biography
press
publications
news
biography
Thea Djordjadze was born in Tbilisi, Georgia, in 1971. She lives and works in Berlin.
At first glance, Thea Djordjadze's sculptural assembles are not always readily identifiable as such; she often creates installations developed on site in response to the particular space or the context of an institution.
For her 2017 solo show at Pinakothek der Moderne in Munich she realized out-sized vitrines that structured the exhibition space and in which she presented a selection of works on paper from Graphische Sammlung München. At the same time, she designed comfy islands of seats for the viewers. Her artistic practice at times intervenes profoundly in institutional structures; in this way, it could be grasped as a process of continual contextualization, reconfiguration and re-ordering of existing and new objects, as a provisional state that bears within it the potential of change.
selected museum exhibitions
Survey exhibitions on Thea Djordjadze have been presented at Kunst Museum Winterthur (2019); Portikus, Frankfurt, and Pinakothek der Moderne Staatliche Graphische Sammlung, Munich (2018); La Triennale di Milano, Milan (2017); Secession, Vienna; and MoMA PS1, New York (2016).
Her work has been included in international group exhibitions such as, dOCUMENTA (13), Kassel (2012) and the Venice Biennale (2013 and 2015).
shows at Kaufmann Repetto
notes on light and sound of objects, 2020, solo show at kaufmann repetto new york
Oxymoron Grey, 2013, solo show at kaufmann repetto Milan
Thea Djordjadze, 2010, solo show at kaufmann repetto Milan
[ read more ]
Born in Tbilisi, Georgia, 1971. Lives and works in Berlin, Germany.
upcoming group exhibitions
2023
Wiels, Brussels
Sprüth Magers, Berlin 
Selected solo and duo exhibitions
2022
Thea Djordjardze, Musée d'Art Moderne et Contemporain, Saint-Étienne Métropole
2021
Gropius bau, berlin
2020
notes on light and sound of objects, kaufmann repetto, new york
2019
one is so public, and the other, so private, Kunst Museum Winterthur, switzerland
2018
o potio n., Portikus, Frankfurt
Thea Djordjadze Inventur SGSM, Pinakothek der Moderne Staatliche Graphische Sammlung, Munich
2017
Thea Djordjadze – Fausto Melotti. Jumping out of an age we found uninhabitable, La Triennale di milano, Milan
2016
To be in an upright position on the feet (studio visit), Secession, Vienna
Projects 103: Thea Djordjadze, MoMA PS1, New York
2015
Ma Sa i a ly e a se – de, South London Gallery, London
Thea Djordjadze, Frieze London Project, London
2014
Thea Djordjadze, MIT List Visual Art Center, Cambridge
A guide on wrong path, Galerie Meyer Kainer, Vienna
2013
Oxymoron Grey, kaufmann repetto, Milan
Our Full, Mudam Musée d'art Moderne, Luxemburg
Thea Djordjadze, Aspen Art Museum, Aspen
Our Full, Kunstverein Lingen Kusthalle, Lingen
Novembe, Kölnischer Kunstverein, Cologne
2012
Our Full, Malmö Konsthall, Malmö, Sweden
Sprüth Magers, London
2011
Let me disclose the gifts reserved for age, Rat Hole Gallery, Tokyo
Lost promise in a room, The Common Guild, Glasgow
Casualties, Galerie Meyer Kainer, Vienna
His vanity requires no response, Contemporary Art Museum St. Louis, St. Louis
Quiet speech in wide circulation, Kiosk, Ghent
2010
kaufmann repetto, Milan
Thea Djordjadze: Boat, Now, Castillo/Corrales, Paris
Die 7 Lärmlampen, Dommuseum zu Salzburg, Salzburg
Capital Letter, Foksal Gallery Foundation, Warsaw
2009
Occasional Exercise, Micky Schubert, Berlin
Thea Djordjadze, Westlondonprojects, London
Explain away, Sprüth Magers, Berlin
Endless Enclosure, Kunsthalle Basel, Basel
All that is Solid Melts into air, De Garage, Mechelen
2008
Kaffeesatzlesen (Performance), Kunsthalle Zürich, zurich; Sprüth Magers, Cologne; Kunstverein Nürnberg, Nuremberg
Un soir, j'ai assis la beauté sur mes genoux. And I found her bitter and
I hurt her, with Rosemarie Trockel, Sprüth Magers, Berlin
2007
Un soir, j'ai assis la beauté sur mes genoux. And I found her bitter and I hurt her,Sprüt Magers, London
Possibility Nansen, Studio Voltaire, London
History of an Encounter, Galerie Micky Schubert, Berlin
2006
Pampel, Frauenplatz, Munich
A room of ones own, Zülpicher Platz, Cologne
2005
2, Bar Ornella, Cologne
Südstadtvirus, with Andreas Reihse, Studio Voltaire, London
2003
Tba, Adeline Morlon Art Direction, Düsseldorf
Fröhliche Wissenschaft, Brandenburgischer Kunstverein, Potsdam
2002
Augen ohne GESICHT, Kölner Straße 334, Düsseldorf
The sight of the Conductor, Bonner Kunstverein, Bonn
Selected group exhibitions
2022
Noé Soulier, "First Memory", Centre Pompidou, Paris
Under Construction. New Acquisitions for the Nationalgalerie Collection, Hamburger Bahnhof / Museum für Gegenwart, Berlin
2021
Around the Day in Eighty Worlds, CAPC musée d'art contemporain de Bordeaux, Bordeaux
2020
studio berlin, berghain, berlin
they do not understand each other, tai kwun, hong kong
Vent'anni – Twenty Years, 20th anniversary exhibition, kaufmann repetto, milan
2019
Russian Morning, md bar cologne, cologne
HYPER! A JOURNEY INTO ART AND MUSIC, Deichtorhallen, Hamburg
I Do Speak Landscape, Braunsfelder FAMILY COLLECTION, Cologne
2018
Germany is not an Island, Bundeskunsthalle, Bonn
2017
Pompei@Madre. Materia Archeologica, museo Madre, Napoli
Inventuren, Staatliche Graphische Sammlung, Munich
Perpetual Construction, CAB Art Center, Brussels
Mentally Yellow (High Noon), Lenbachhaus und Kunstbau, Munich; Kunstmuseum, Bonn
A Birthday Present as a Watch, Galerie Frank Elbaz, Paris
Un soir, j'ai assis la beauté sur mes genoux. And I found her, Sprüth Magers, Munich
2016
Wer nicht denken will, fliegt raus. Handlungsanweisungen nach Beuys, Museum Kurhaus Kleve, kleve
TIME AND DETAILS_Artists/Artisans/Carlo Scarpa, Ca' Foscari, Venice
Sammlung mit losen Enden, Kunsthaus KORNELIMÜNSTER NRW, Aachen
Tele-Gen. Art and Television, Kunstmuseum Liechtenstein, Vaduz
How To Charm, Qbox gallery, Athens
Flower Power!, Galerie de multiples – GDM, Paris
2015
NO MAN'S LAND: Women Artists from the Rubell Family Collection, Rubell Family Collection, Miami
'All the World's Futures' , 56th International Exhibition, La Biennale di Venezia, Venice
Le regole del gioco, Studio Achille Castiglioni, Milan
Minimal Forms Of Reality, Gallery of Contemporary Art Bunkier Sztuki, Krakow
Ärger Im Paradies, Bundeskunsthalle, Bonn
Adventures of the Black Square: Abstract Art and Society 1915 – 2015, Whitechapel Art Gallery, London
BRICOLOGIE. La Souris et le perroquet, Villa Arson, Nice
Vibrant Matter, kiosk, gent
Nowhere, Kosmetiksalon Babette, Berlin
Love or the lack of it, Travesía Cuatro, Madrid
2014
TRAINS, Night Gallery, Los Angeles
QUIZ, Poirel Gallery, Nancy
Re: Museum – Zeitgenössische Kunst aus Deutschland, Georgien; Museum Dimtri Shvardnadze National Gallery, Tbilisi
The Brancusi Effect-The Archival Impulse, Kunsthalle Wien, Vienna
In Some Other Way, Elba Benitez Gallery, Madrid
Post/Postminimal, Kunstmuseum St. Gallen, St. Gallen
2013
Il Piedistallo vuoto. Fantasmi dall'Est Europa, Museo Civico Archeologico di Bologna, Bologna
Kamikaze Loggia, Georgian Pavilion, 55th Biennale, La Biennale di Venezia Venice
Utopie beginnt im Kleinen/Utopia starts small, 12, Fellbacher Triennale
22, Fellbach
Words of Love and Life, Galerie Micky Schubert, Berlin
Mind is outer space, Casey Kaplan Gallery, New York
Six Memos for the next…, Magazin 4, Bregenzer Kunstverein, Bregenz
Nouvelles Impressions de Raymond Roussel, Palais de Tokyo, Paris
Superusurpedsupper, performance-project, nomas foundation, Rome
Magma Dye Transfer Editions, Paris bar, Berlin; Bureau N, Berlin
Collection on Display: Heidi Bucher, Thea Djordjadze, Berta Fischer, Loredana Sperini, Katja Strunz, Migros Museum for Gegenwartskunst, Zurich
2012
The castle in the air, ZAMEK, Centre of Culture, Poznan
Organic, curated by Paolo Colombo, Centre d'art contemporain, Geneva
Olinka, or where the movement is created, Museo Tamayo, Mexico City
Sculptural Matter, ACCA Australian Center for Contemporary Art, Melbourne
dOCUMENTA (13), Kassel
Phases, Wallspace Gallery, New York
Dla Was/For You, Museum Sztuki w Lodzi, Lodz
'In the Holocene', MIT List Visual Arts Center, Cambridge
The future that Was, Smartprojectspace, Amsterdam
2011
Beholder, Talbot Rice Gallery, Edinburgh
Pour un art Pauvre, Carré d'art, Nimes
Jahresgaben 2011/2012, Kunstverein Hamburg
Essential Art, Frankfurter Kunstverein, Frankfurt
FRUENZIMMER, Museum Morsbroich, Leverkusen
To See Dimensions. Artists from Georgia, Lunds Konsthall, Lund
Melanchotopia, Witte de With Center for the Contemporary Art, Rotterdam
The art of narration changes with time, Sprüth Magers, Berlin
Essential Art, Collezione Maramotti, Reggio Emilia
Time Again, Sculpture Center, New York
The Magic of Clay – Ceramics in contemporary art, GAMMEL HOLTEGAARD, HOLTE
Winter in America, Tanja Pol Galerie, München
How soon now, Rubell family collection, Miami
2010
Aporien der Liebe, BQ, Berlin
Mental Archeology, Kunstverein Nürnberg, Nuremberg; Centre d'art contemporain d'Ivry-Crèdac, Ivry-sur-Seine
5×5 Castello 10, Espai d'art contemporani de Castello (EACC), Castellón de la Plana
The New Decor, Hayward Gallery, London
Les promesses du passé, Centre Pompidou, Paris
A Thing is a Thing in a Whole Which it's Not, Temporary Gallery Cologne, Cologne
Woodman, Woodman, Who Spare That Tree, Galerie Micky Schubert, Berlin
Moves #2: MOMUS – The emotional lecture, Image movement, Berlin
Die Fuge: Ritual in Trasfigurated Time, Ehemals St. Michael, Cologne
2009
Your Gold Teeth LL, Marianne Boesky, New York
Remote Memories, Kai 10, Raum für Kunst, Düsseldorf
In May (After October), Gallery TPW, Toronto
Arrival Inside, Mary Mary, Glasgow Kunstpreis der Böttcherstraße in Bremen, bremen
Vom gehen in viele Richtungen, KIT, Kunst im Tunnel, Düsseldorf
All that is Solid Melts into Air, De Garage, Mechelen
'Prose pour Des Esseintes', Karma International, Zurich
2008
Jahresgaben 2008\2009, Kunstverein Nürnberg, Nuremberg and Centre d'art Transformational Grammars, francesca kaufmann, Milan
Walking in many different directions, KIT Kunst im Tunnel, Düsseldorf
After October, Elizabeth Dee Gallery, New York; Art Berlin Contemporary, Berlin
ART TLV 08\ Helena Rubinstein Pavilion and Yaacob Garden, the Tel Aviv Museum of Art, Tel Aviv
ABC – art berlin contemporary, Post bahnhof am Gleisdreieck, Berlin
On Interchange, Museum Kurhaus Kleve, kleve
When Things Cast No Shadow, 5th Berlin Biennale, berlin
Martian Museum of Terrestrial Art, Barbican, London
Un soir, j'ai assis la beauté sur mes genoux. And I found her bitter. And I hurt her., Sprüth Magers, Munich
2007
Atelierstipendiaten des Kölnischer Kunstverein, Die Brücke, Kölnischer Kunstverein, Cologne
Élégance, Kölnischer Kunstverein, cologne
9, Biennale de Lyon, Lyon
And I found her bitter and I hurt her, Sprüth Magers, London
Objects, Karma International, Zurich
Viewing Room, Sprüth Magers, Cologne
Der Ficker, Fortescue Avenue, London
Mondi Possibili, Sprüth Magers, Cologne
2006
Let's stay alive till Monday, Children National Gallery, Tbilisi
Modus: Automne Frotté, KunstHalle St. Gallen, st. gallen
Gregor Schneider: Totalschaden, Bonner Kunstverein, Bonn
The New Vernacular – Contemporary art meets popular culture, Zentrum Paul Klee,
Bern
Mondi Possibili, Sprüth Magers, munich
2005
7, Sprüth Magers Lee, London
Open garden, Fortescue Avenue, London
I will, Schauspielhaus Düsseldorf, Düsseldorf
Play, Stadtmuseum Düsseldorf, Düsseldorf
11, Bar Ornella, Cologne
2004
Rheinschau, Art Cologne 2004, Cologne
Für die Konstruktion des Unmöglichen, European Kunsthalle, Cologne
Auf dem Berlich, Cologne, Cologne
Sprüth Magers Projekte München, Munich
Tombola, kjubh, Cologne
2003
Utopia Station – Postersection, Sindelfingen
L'Ananas Bianco, Palazzo Zenobia, Venice
Sogni e conflitti – La dittatura dello spettatore, 50ª Esposizione internazionale d'arte, Biennale di Venezia, Venice
20th Anniversary Show, Sprüth Magers, Cologne
Zero Gravity, Kunstverein für die Rheinlande und Westfalen, Düsseldorf
2002
Salon de Thé, Hamburg
2001
Zero Gravity, Kunstverein für die Rheinlande und Westfalen, Düsseldorf
2000
Due Dimensioni, Nuova Pescheria, Rovigo and Deutsche Welle, Cologne
Klasse Trockel, Kunstraum, Düsseldorf; Schwerte
ArtGrus, Dom, Moscow
1999
Spiel des Lebens, Hauptpost, Düsseldorf
Djordjadze Föttinger Von Hellermann, Arnhem Champion Art; Düsseldorf
Galerie Institut
1998
Due Dimensioni, Academia di Belle Arti, Venedig
MayDay, Böhlerwerke, Düsseldorf
1997
Klasse Krieg, Galerie Timm Gierig, Frankfurt

Education
Djordjadze studied at the Gerrit Rietveld Academie in Amsterdam and at Kunstakademie Düsseldorf
Prizes, Grants and Fellowships
2015
Residency at South London Gallery, London, GB 2014 Villa Aurora, Los Angeles, USA
2014
Muslim Mulliqui Prize exhibition, Kosovo
2009
Kunstpreis der Böttcherstraße in Bremen
2008
Catalogue Grant from Alfried Krupp von Bohlen und Halbach-Stiftung Grant, Kunststiftug NRW
Studio Grant, Imhoff Stiftung and Kölnischer Kunstverein, Cologne
2007
Studio Voltaire, Artist residency, London
2006
Sommerakademie, Zentrum Paul Klee, Bern
2004
Stipendium für Bildende Künstlerinnen min Kindern, NRW
2001
Travel Grant, SK Stiftung Dusseldorf Peter Mertes Stipendium, Bonn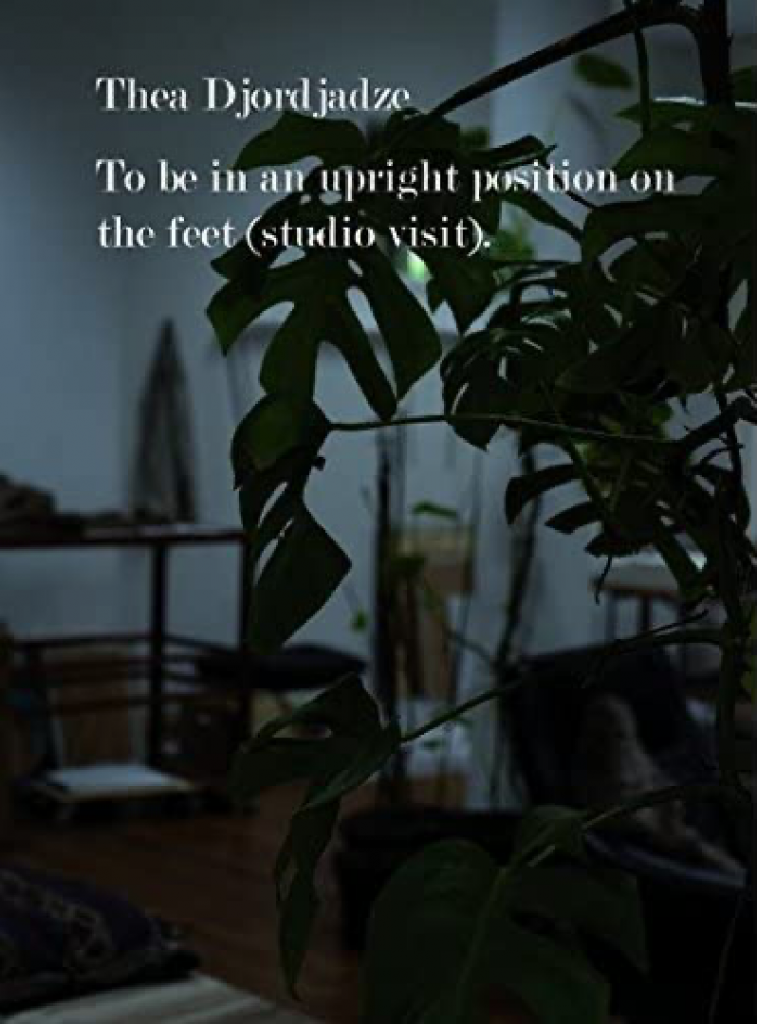 Thea Djordjadze – to be in an Upright Position on the Feet (Studio Visit), 2016
Revolver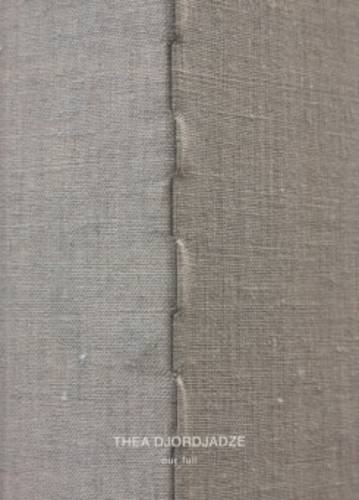 Thea Djordjadze – our full, 2012
Malmö Konsthall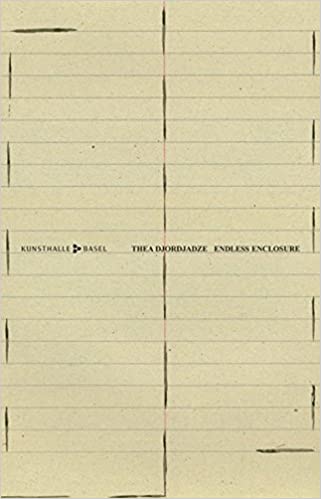 Thea Djordjadze – Endless Enclosure, 2009
Schwabe Ag