lily van der stokker
works
exhibitions
biography
press
publications
news
biography
born in Den Bosch, The Netherlands, in 1954. She lives and works between Amsterdam and New York.
Lily van der Stokker has been making immersive artworks in the form of wallpainting-based installations since the 1980s, at which time she also operated an art gallery in New York's East Village sharing a street with such influential programs as Colin de Land's Vox Populi and Pat Hearn's eponymous gallery.
In their immediate delivery, van der Stokker's works beckon happy-go-lucky intonations in their fanciful, 'feminine', curlicued and flower- powered familiarity. Their formal bubbled, blobby, and loopy approachable techniques may recall the doodlings more traditionally relegated to the notebook margins of a teenage girl, while the textual inclusions create dichotomies that illuminate more cutting messages and comment upon more condemning realities.
lily van der Stokker presents us with works that require the viewer to consider the implications of 'Kissy, Kissy' but also of 'no improvement / no progress'. As Roberta Smith noted in 1990, "The messages conveyed in this terminally cheerful manner usually have a double edge."
selected museum exhibitions
Lily van der Stokker has exhibited internationally, with solo exhibitions including those at Camden Art Centre, London; The Migros Museum für Gegenwartskunst, Zurich; Stedelijk Museum, Amsterdam; SCAD Museum of Art, Savannah; Hammer Museum, Los Angeles; Museum Boijmans van Beuningen, Rotterdam; Tate St.Ives, Cornwal St.Ives, St.Ives; Van Abbemuseum, Eindhoven; Museum Ludwig, Cologne; and Le Consortium, Dijon among others. 
Her work has also been included in group exhibitions at the Kunstmuseum Basel, Basel; Frac Normandie, Caen; Walker Art Center, Minneapolis; The Art Club of Chicago, Chiacgo; Centre Pompidou, Paris; New Museum, New York; Aspen Art Museum, Aspen; and Villa Arson, Nice; among many others. Van der Stokker has completed numerous monumental public art projects such as the Celestial Teapot, Hoog Catharijne, Utrecht, (2013) and Pink Building during the World Expo in Hannover (2000).
public collections
Van der Stokker's work is in many permanent collections, including those of Stedelijk Museum, Amsterdam; Museum of Modern Art, Arnhem; Museum Boijmans van Beuningen, Rotterdam; Jumex Collection, Mexico City; Museum of Contemporary Art, Chicago; Centre National des Arts Plastiques, Paris; Le Consortium, Dijon; Musée des Beaux Arts de Nancy, Nancy; Bonnefantenmuseum, Maastricht; Worcester Art Museum, Worcester.
shows at kaufmann repetto
i am going to sleep now, 2022, solo show at kaufmann repetto milan
Exhibition of the Medicines, 2019, solo show at kaufmann repetto New York
Living Room, 2012, solo show at kaufmann repetto Milan
FAMILY, MONEY, INHERITANCE, 2005, solo show at kaufmann repetto Milan
Furniture Project, 2005, solo show at kaufmann repetto Milan
Lily van der Stokker, 2002, solo show at kaufmann repetto Milan
[ read more ]
Upcoming solo exhibitions
2024
Frac Normandie, Caen
Selected solo exhibitions

2023
CODA Museum, Apeldoorn
2022
I Am Going To Sleep Now, Drawings: 1988-2022, kaufmann repetto, Milan
thank you darling, CAMDEN ART CENTER, LONDON
2020
Camden Arts Centre, London
mezzaterra11 – flat gallery, Belluno
2019
exhibition of the medicines, kaufmann repetto, New York
Help Help a Little Old Lady Here, Migros Museum für Gegenwartskunst, Zurich
2018
Friendly Good, Stedelijk Museum, Amsterdam
Huh, SCAD Museum of Art, Savannah
2017
Living Room, CAPRI, Düsseldorf
2015
Hammer Projects, Hammer Museum, Los Angeles
2014
Huh, Koenig & Clinton, New York
Best Mooi, Maria Roosen & Lily Van Der Stokker, Gallery Fons Welters, Amsterdam
Hello Chair, Air de Paris, Paris
2013
Sorry, Same Wall Painting, The New Museum, New York
2012
Living Room, kaufmann repetto, Milan
2011
Not so nice, Helga Maria Klosterfelde Editions, Berlin
2010
Ugly and Terrible, Leo Koenig, New York
No big deal thing, Tate St. Ives, St Ives
Art Feature at Art 41 Basel, francesca kaufmann
Terrible, Museum Bojmans Van Beuningen, Rotterdam
Flower floor painting, La Conservera, Murcia
2009
Berlin – Paris (with Dorothy Iannone), Esther Schipper, Berlin
Rien ne va plus, part of Play van Abbe, Van Abbemuseum, Eindhoven
2007
plug in, Stedelijk Van Abbemuseum, Eindhoven
To the Wall (with David Shrigley), Aspen Art Museum, Aspen
2005
Galerie Air de Paris, Paris
The Complaints Club, Van Abbemuseum, Eindhoven
Family, Money, Inheritance, francesca kaufmann, Milan
Furniture Project, francesca kaufmann, Milan
2004
Feature, New York Worcester Museum of Modern Art, Worcester
Oom Jan, Tante Annie, Bonnefanten Museum, Maastricht
Tafels en stoelen, VIVIDvormgeving, Rotterdam
2003
Small Talk, Museum Ludwig, Koln
Easy Fun, Galerie Klosterfelder, Berlin
Beauty Friendship and Olde Age, Museum Voor Moderne Kunsten Arnhem, Arnhem
2002
francesca kaufmann, Milan
Friends & Family, Le Consortium, Dijon
LvdS and Rob Pruitt, Galerie Air de Paris, Paris
2001
Geklets, Gallery Van Gelder, Amsterdam
2000
The Cabinet Gallery, London
Galerie Klosterfelder, Hamburg
Galerie Air de Paris, Paris
1999
Feature Gallery, New York
Richard Telles Gallery, Los Angeles
1998
Galerie Air de Paris, Paris
Lily van der Stokker and works from the sixties of Daan van Golden, Robert Indiana, Yayoi Kusama, Niki de Saint Phalle, Martial Raysse, Wim T. Schippers, Elaine Sturtevant, Stedelijk Museum Bureau, Amsterdam
1997
Something, Feature Gallery, New York
Gouveneurstuin Assen, Assen
1996
Le Consortium, Dijon
1995
Galerie Art & Public, Geneva
1994
Curlique, Gallery Van Gelder, Amsterdam
Galerie Art & Public, Geneva
Feature Gallery, New York
1993
Puss-Puss, Ynglingatan 1, Stockholm
Office installation, Feature Gallery, New York
1992
Feature Gallery, New York
Galerie 121, Antwerp
Grey Art Gallery, New York University, New York
Winners and Losers, Gallerie Snoei, Rotterdam
Galerie Daniel Buchholz, Koln
Galerie Lukas & Hoffmann, Berlin
Peninsula, Eindhove
1991
GOED muurschilderingen, Museum Fodor, Amsterdam
Office Party, Feature Gallery, New York
1990
Feature Gallery, New York
CASCO, Galerie van Gelder, Utrecht
1989
Alles Voor 12 & 24 Volt, Rotterdam
1988
Galerie op 't Hemelrijken, Eindhoven
1986
V.I.R.T.U., Nijmegen
1983
Outdoor Wallpainting, Breda
Selected group exhibitions
2022
Fun Feminism, Kunstmuseum Basel, Basel
A Perfect Day Tekenshow, NDSM A'DAM, Amsterdam
2020
Vent'anni – Twenty Years, 20th anniversary exhibition, kaufmann repetto, milan
100 drawings from now, the drawing center, new york
2017
A Rehearsal for What?, Bel Ami, Los Angeles
A Better Yesterday, CAMH, Houston
Poïpoï, Une Collection Privée à Monaco, Nouveau Musée National de Monaco, Monaco
Illusion und Offenbarung Aus Der Kollektion des Bonnefantenmuseum,
Bonnefantenmuseum, Mastricht
2016
The Rebellious Muse, Feminist Art September Fest, Amsterdam
Gerlach en Koop, Bonnefantenmuseum, Maastricht
My Friends And Other Animals, Travesia Cuatro, Madrid
Objects Do Things, Centre for Contemporary Art Ujazdowski Castle, Varsavia
Duh? Art and Stupidity, Focal Point Gallery, Southend-on-Sea
Peachtree Industrial, Bodega, New York
Home Improvements, FraenkelLAB, San Francisco
2015
Theory of Achievement, Yale Union, Portland
My Lonely Days Are Gone / Part 2 – Arratia Beer, Berlin
June, Simone Subal Gallery, New York
Beyond Borders – 5th Beaufort Triennial of contemporary art by the sea, Beaufort Triennale, Oostende
Toys Redux – On Play and Critique, Migros Museum für Gegenwartskunst, Zurich
Looking Back/The 9th White Columns Annual, White Columns, New York
Welter, Migros Museum Fur Gegenwartkunst, Zurich
2014
Blue Blob Drip Wallpainting (2014), Art Basel, kaufmann repetto's booth, Basel
Semiotics of the Kitchen; what happened after, Gallery Stigter van Doesburg, Amsterdam
The Wedding Show, W139, Amsterdam
2013
House of the Vetti, Koenig & Clinton, New York
LAT. 41° 7' N., LONG. 72° 19' W, Martos Gallery, New York
Call of the Mall, Hoog Catharijne, Utrecht
NYC 1993: Experimental Jet Set, Trash and No Star, New Museum, New York
As Tears Go By, Cokkie Snoei Rotterdam, Rotterdam
Gevoelige Stof/Sensory Fabric, Gallery Westside, den bosch
2012
@ almere en de anderen, Kunstlinie, Almere; arthur Rainbow, Air de Paris, Paris
2011
All about Drawing, Stedelijk Museum Schiedam, Schiedam
Exposition d'ouverture, Le Consortium, Dijon
2010
Looking Back: the Fifth White Columns annual, White Columns, New York
Nothing is forever, South London Gallery, London
De Geer van Velde à Rineke Dijkstra, un panorama de l'art néerlandais dans les collections des FRAC, Institut Néerlandais, Paris
2009
Rebelle kunst & feminisme 1969-2009, Museum voor Moderne Kunst, Arnhem
La suite, Galerie Air de Paris, Paris
The rustle of language, francesca kaufmann, Milan
Portrait de l'Artiste en Motocycliste/Portrait of an Artist as Biker, Le Magasin – Centre National d'Art Contemporain, Grenoble
Don't Perish, Leo Koenig, New York
Plug In #52: Lily van der Stokker and guest Jim Isermann, Van Abbemuseum, Eindhoven
Love the BeNeLux, Virgil De Voldère (A.K.A. SlingShot Project), New York
2008
In the cherished company of others, De Appel, Amsterdam
Painting now and forever, part II, Matthew Marks Gallery, New York
Who's afraid of Jasper Johns, Tony Shafrazi, New York
2007
To the Wall, Aspen Art Museum, Aspen
2006
Plug In #1-#8, Van Abbemuseum, Eindhoven
Lara Schnitger, Lily van der Stokker, Sue Williams, Stuart Shave, Modern Art, London
A Dessein, Fonds Régional d'Art Contemporain Poitou-Charentes, Angouleme
Anne Daems invites, Galerie Micheline Szwajcer, Antwerp
2005
The Simple Life, Hydra school project, Hydra
Frontiers, Collecting the Art of Our Time, Worcester Art Museum, Worcester
Looking at Words, The Formal Presence of Text in Modern and Contemporary Works on Paper, Andrea Rosen Gallery, New York
Life on the screens/Interior Worlds, galerie les Filles du Calvaire, Brussels
Emotion Pictures, Museum van Hedendaagse Kunst (MuHKA), Antwerp
Les apparences sont souvent trompeuses, CAPC Musée d´art contemporain, Bordeaux
Black+White and a little bit of color, Museum Voor Moderne Kunsten Arnhem, Arnhem
2004
Woorden, RAI Artfair, Gallery van Gelder, Amsterdam
Jusqu'ou irez-vous?, Parcours Saint-Germain-des-Prés, Paris
Lily van der Stokker Julika Rudelius Antonietta Poeters, Stedelijk Museum Schiedam, Schiedam
Tekeningenzomer / Summer of drawings, Centraal Museum, Utrecht
A kind of Bliss, The Drawing Room, London
A l'étranger, Aménager la maison, habiter le musée, Museo d'Arte Contem poranea di Villa Croce, Genoa
2003
Filmbar, Open air-kino, Auf der dachterrasse des museum Ludwig's, Museum Ludwig, Koln
Flower Power, "Lille 2004, Cultural Capital", Musée des Beaux – Arts, Lille
C'est arrivé demain, 7e Biennale d'art contemporain de Lyon, Lyon
Nice and Easy, Sprengel Museum, Hannover, curated by Patricia Druck K48 Teenage Rebel, Gallerie du Jour/Agnes B, Paris
Creeping Revolution 2, Rooseum, Malmo
Melodrama, Museo de Arte Contemporaneo de Vigo, Vigo
Unfair, De Paviljoens, Almere
Frieze Art Fair, (Galleria Francesca Kaufmann), London
2002
K48 Teenage Rebel, John Connelly Gallery, New York
Life in a Glass House, A Proposal for Municipal Art Acquisitions, Stedelijk Museum, Amsterdam
Van IJ tot Zee 02, Halfweg
Spot the Differences, Gallery Van Gelder, Amsterdam
Melodrama, Centro Jose Guerro/Palacio de los Condes de Gabia, Granada; Centro-Museo Vasco de Arte Contemporaneo, Vittoria-Gasteiz
Adam & Eve. On sex. tolerance and other dependencies, Foundation De Appel, Amsterdam
La Chinoise, Baumgartner Galleries Inc. New York
Pretty, ATM Gallery, New York
Hello to Handmade Words, K.S. Art, New York,
buitenZinnen, Wormhole 2, Museum Boijmans Van Beuningen, Rotterdam
Gttz (Guide to trust no. 2), Yerba Bueno Center for the Arts, San Francisco
2001
Sense of Wonder, Herzlia Museum of Art, Tel Aviv
Unbreakable, Art et Amecitea, Amsterdam
Drawings, Greene Naftali, New York
Feature Gallery, reception area, New York
The Devil Is In The Detail, Allston Skirts Gallery, Boston
OIKA, The Paviljoens, Almere
Een Goed In De Weg Staande Tafel, Gallery Van Gelder, Amsterdam
FRAC Aquitaine, Périgueux
Ascan Crone Galerie, Hamburg
Let's Entertain. Lifes Guilty Pleasures, Kunstmuseum Wolfsburg, Wolfsburg; Miami Art Museum, Miami
De Keeshond Hapt, Biennale Leuven, Leuven
2000
Poesie, Love, Sneeuwwitje, Pfft, Museum voor Moderne Kunst Arnhem, Arnhem
In Between, The Art Project of Expo 2000, Hannover
Presumed Innocent, CAPC Musée de Bordeaux, Bordeaux
Aintings and Rawings, Feature Inc., New York
Drawings, Galerie Tache-Levy, Brussels
A New Day Dawning, Judy Ann Goldman Fine Art, Boston
Conserve, FRAC Aquitaine, Bordeaux
Hairy Forearm's Self-Referral, Feature Gallery, New York,
Diary, Cornerhouse, Manchester; Firstsite, Colchester
Hex Enduction Hour By The Fall, Team Gallery, New York
Let's Entertain, The Walker Art Center, Minneapolis; Portland Art Museum, Portland
Au-delà du spectacle, Centre Georges Pompidou, Paris
Double Space, Apex Art, New York
Haut de Forme et Bas Fonds, FRAC Poitou-Charentes, Angoulême
1999
1999 Drawings, Alexander and Bonin Gallery, New York
Village Disco, The Cabinet Gallery, London
Love Speed Thrills/Elizabeth Go, Lily Van der Stokker, Mark Neville, Manchester School of Art at the Manchester Metropolitan University, manchester
Gallery Van Gelder, Amsterdam
Officina Europa, Galleria d'Arte Moderna, Bologna
Wall paintings, Galerie Helga Maria Klosterfelder, Hamburg
Le Grand Premier Opening Show, Gallery Nicolai Wallner, Copenhagen
De coraz(i)on, Centro Cultural Tecla Sala, Barcelona
Provisorium I, Bonnefanten Museum, Maastricht
Free Coke lines, drawings & paper, Greene Naftali Gallery, New York
Parallel Lines: Mix and Match, Karen McCready Fine Art, New York
Woord en Beeld, Museum voor Moderne Kunst Arnhem, Arnhem
1998
L'Envers du décor. Dimensions décoratives dans l'art du XXe siècle, Musée d'Art Moderne, Lille
Surfacing. Contemporary Drawing, ICA, London
Encyclopedia 1999, Turner & Runion Gallery, Dallas
Poepie en Floepie, Ynglingatan, Stockholm
Wop works on/off paper, ANP, Antwerp
Roommates, Museum van Loon, Amsterdam
Inglenook, Feigen Gallery, New York
Inglenook II, University Galleries of Illinois State University, Illinois
Vive la vie, Le Parvis, Pau
Losse Werken, Rake Klappen, Gallery van Gelder, Amsterdam
Lovecraft, South London Gallery, London
A to Z, The Approach, London
science, Feature Gallery, New York
Bonne Année, Galerie Air de Paris, Paris
De Wereld Van Verschil, Museum voor Moderne Kunst Arnhem, Arnhem
DeNaturalized, Museum of Contemporary Art, Chicago
1997
Dramatically Different, Le Magasin, Grenoble,
Kunst… Arbeit, Sudwest LB Bank, Stuttgart
Bring Your Own Walkman, W139, Amsterdam
Lovecraft, CCA Glasgow, Glasgow
Fake Ecstacy With Me, Museum of Contemporary Art, Chicago
Connexions Implicites, Ecole Des Beaux-Arts, Paris
1996
De verbouwing, De Verhuizing & De Verandering, Gallery Van Gelder, Amsterdam
NDXLRTE, Gallery Index, Stockholm
Smooth, Galerie Air de Paris, Paris
Romper Room, Thread Waxing Space, New York
Patterns of Excess, Beaver College Art Gallery, Glenside
Ab Fab, Feature Gallery, New York
Printemps/été 1996, Groninger Museum, Groningen
Macht der Verfuhrung, Schonheit und geheimnis in der Aktuellen Kunst, Wewerka Gallery, Berlin
Intimiteit, Museum voor Moderne Kunst Arnhem, Arnhem
New Age Dada, Kunstruimte Berlin, Berlin
Wunderbar, Kunstverein Hamburg, Hamburg
Kingdom of Flora, Shoshana Wayne Gallery, Santa Monica, California; Galerie Air de Paris, Paris
1995
Strappy Sandals & Skinny Belts, The Hyperfeminine Position in Painting, Victoria Room, San Francisco
Scribble, Hyde Park Art Center, Chicago
On Beauty, Regina Gallery, Moscow
Interno 1, Gallery Raucci/Santamaria, Napels
Pièces-Meubles, Galerie Jousse Seguin, Paris
Comp i Box, Gallery Van Gelder, Amsterdam
Zeichen & Wunder/Signs & Wonders, Kunsthaus Zurich, Zurich
Signos et Milagres, Centro Calego de Arte Contemporanea, Santiago de Compostela
Very, Richard Telles Fine Art, Los Angeles
Collection, Fin XXe, Fonds Régional d'Art Contemporain Poitou-Charentes, Angoulème
Supastore, Middelsbrough Art Gallery, Middelsbrough, Cleveland
Quelques Fleurs, at "8th Floor", New York
Correspondencias, Rio Arte, Paco Imperial, Rio de Janeiro
New Age–Dada, Arnhem
1994
Adieu. Les Frontières!, Galerie Bob van Orsouw, Zurich Deadpan, The Work Space, New York, curated by Carl Ostendarp
Tekeningen en Tekeningen, Gallery Van Gelder, Amsterdam
Videotapes, CASCO, Utrecht
Esprit d'Amusement, Stadtmuseum Graz, Graz, curated by Eva Maria Stadler of the Grazer Kunstverein
Faith in Doubt. A speculation on the function of humor in contemporary art, University at Buffalo Art Gallery, Buffalo, New York, curated by Al Harris and Karen Emenhiser
Please Don't Hurt Me!, Gallery Snoei, Rotterdam, The Netherlands, curated by Jack Jaeger, Cabinet, London
Flowers, Galerie Alain Gutharc, Paris
Speedtrials, Team Gallery, Washington DC, curated by Lisa Ruyter
Surface de Réparation, FRAC Bourgogne, Dijon, curated by Eric Troncy
Supastore, Laure Genillard Gallery, London, curated by Sarah Staton
The Use of Pleasure, Terrain Gallery, San Francisco, curated by Robert Nickas
Dysfunction, Arthur Roger Gallery, New Orleans LS, curated by Peter Halley and Robert Nickas
Résidence Secondaire, Paris, France, curated by Philippe Rizzo, Stéphane Corréard and Galerie Air de Paris
Babies & Bambies, Arti et Amicitiae, Amsterdam, curated by Nina Folkersma
The Art of Seduction, Miami Dade Community College, Miami, curated by Bonnie Clearwater
Wall to Wall, South Hampton City Art Gallery, Southampton, curated by Maureen Paley
Forging Ahead, University of Texas Art Gallery, Arlington, curated by Al Harris
NY-NL-XX, Gemeente Museum Helmond, The Netherlands
The Power of Positive Thinking, Food House, Los Angeles, curated by Sam Durant
Kingdom of Flora, Shoshana Wayne Gallery, Santa Monica, California
Galerie Air de Paris, Paris
A Garden, Barbara Krakow Gallery, Boston
Teenspirit, Gallery Nicolai Wallner, Copenhagen
Punishment & Decoration, Galerie Hohenthal und Bergen, Köln, curated by Michael Corris
De logés, Gallery van Gelder, Amsterdam
Kus Me Kus Me Zeeman, de Vishal, Haarlem
1993
Six mois à Paris, Galerie Air de Paris at Café Beaubourg, Paris
Vrij Spel, Museum voor Moderne Kunst Arnhem, Arnhem
Wall Gazer, Dooley Le Cappelaine, New York
Good, Associated publishers, Amsterdam, The Netherlands
The Art of Self-defense And Revenge… It's Really Hard, Momenta Art, New York
The First New Age Show, W139, Amsterdam
Reflecties, Centrum Beeldende Kunst, Dordrecht, The Netherlands
Het Boudoir van PM, A.I.R., Amsterdam
Recht van Spreken, Noordbrabants Museum, 's-Hertogenbosch, The Netherlands
Summer '93, Galerie Air de Paris
Nice Municipal Acquisitions, 1992, Stedelijk Museum, Amsterdam
Phenylovethylamour, Gallery Daniel Buchholz at the Unfair, Köln, curated by Carsten Höller and Lothar Hempel
E, Kunstlerhaus Bethanien, Berlin, curated by NicolausSchafhausen
1992
The Red Light Show, Stichting CASCO, Utrecht, curated by Jack Jaeger
I Love You, FRAC Poitou-Charentes, Hôtel Saint-Simon, Angoulème
Tattoo Collection, Galerie Jennifer Flay and Galerie URBI et ORBI, Paris; Galerie Daniel Buchholz, Köln; Andrea Rosen Gallery, New York; Centre Régional d'Art Contemporain, Nantes; Galerie Air de Paris, Nice organized by Galerie Air de Paris, Nice and Galerie URBI et ORBI, Paris
Are You a Boy or Are You a Girl?, Real Art Ways, Hartford Connecticut, curated by Cary S. Leibowitz
Multiple Difference, Gallerie Fons Welters, Amsterdam
Wall Drawings, Galerie Air de Paris, Nice
The Invention of Childhood, John Michael Kohler Arts Center, Sheboygan, USA, curated by Nancy Bless
Prospect 1992/Retrospekt 1968, Le Consortium, France, curated by Xavier Douroux, Franck Gautherot and Robert Nickas
The Mud Club, Winchester Cathedral & Lake Nairobi, Gahlberg Gallery, College of DuPage, Glenn Ellyn, Illinois, curated by Hudson Berlin Fahr Ich Hin, Galerie Lukas & Hoffman, Berlin
Molteplici Culture, Milan, curated by Liam Gillick
Sugar and Spice & The House of Zoffy, Speedway Gallery, Boston Gallery Van Gelder, Amsterdam
1991
Office Party, Feature Gallery, New York
Closed On Monday, A Calendar, Galerie Daniel Buchholz, Cologne
Louder, Gallery 400, University of Illinois at Chicago, Chicago, curated by Tony Tasset and Kathryn Hixson
No Man's Time, Villa Arson, Nice, curated by Eric Troncy
Christmas Show, Galerie Air de Paris, Nice
Oogbaden in de Nieuwe Meer, Amsterdam
1990
Godhead, Feature Gallery, New York
Spiel Der Spur, Shedhalle, Zurich
Work On Paper, Paula Allen Gallery, New York
Drawings, Althea Viafora Gallery, New York
1989
Tropical Rainforest, by COLAB, New York
Prisoners of Art, by COLAB, New York, USA
1988
One Twenty-eight, Gallery 128, New York
1986
Stokker, Stikker Gallery, New York
Permanent Public Installations
2004
De Vijf Zinnen, tables and chairs coffeshop, Gorinchem, The Netherlands
2003
Pharostoren, conference rooms of the Belastingdienst + I.N.D., Hoofddorp, The Netherlands
2001
Het Veertien Banken Kunstwerk, Grasveld t/o Hilverbeek 1-7, Almelo, The Netherlands
2000
The Pink Building, Hannover Messe, Halle 10, Hannover, (part of "In Between", the Art Project of Expo 2000, curated by Kasper Koning and Wilfried Dickhoff)
1999
Milton Keynes Theatre, Backstage area (ground floor, dressing room corridor), Milton Keynes
1997
Suedwest LB Bank, Restaurant, Stuttgart
1993
Hôtel Windsor, room 4, Nice
Selected public collections:
Stedelijk Museum, Amsterdam
Museum of Modern Art, Arnhem
Van Abbemuseum, EindhovenMuseum Gouda, Gouda, the Netherlands
Stedelijk Museum, Schiedam, the Netherlands
Bonnefantenmuseum, Maastricht
Museum Boijmans Van Beuningen, Rotterdam
Jumex Collection, Mexico
Collection Dakis Joannou, Greece
Museum of Contemporary Art, Chicago
Worchester Art Museum, Worcester
FRAC Nord-Pas de Calais
FRAC Bourgogne
Musee des Beaux Arts de Nancy
FRAC Poitou-Charentes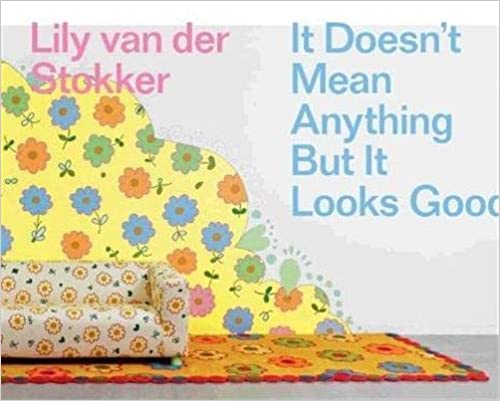 Lily Van Der Stokker

: 

It Doesn't Mean Anything But it Looks Good, 2010
Tate Publishing
Dc: Lily Van Der Stokker: Small Talk, 2004
Walther König