simone fattal
works
exhibitions
biography
press
publications
news
biography
Simone Fattal was born in Damascus, Syria, and raised in Lebanon, where she studied philosophy at the École des Lettres in Beirut. She then moved to Paris, where she continued her philosophical pursuits at the Sorbonne. In 1969 she returned to Beirut and began working as a visual artist, exhibiting her paintings until the start of the Lebanese Civil War. She left Lebanon in 1980 and settled in California, where she founded the Post-Apollo Press, a publishing house dedicated to innovative and experimental literary works. In 1988 she enrolled at the Art Institute of San Francisco, to return to her artistic practice and a newfound dedication to sculpture and ceramics. 
Through sculpture, painting, photography and other medias she investigates the boundaries of figuration, drawing on figures featured throughout the history of the Mediterranean: a cosmogony of standing bodies and resistant architectures.
selected museum exhibitions
Her work has been widely exhibited internationally, though subject, only late in her career, of exhibitions in major institutions such as whitechapel gallery (2021); ICA Milan, milan (2021); bergen kunsthall, bergen (2020); MoMA PS1(2019); Lille métropole Musée d'Art Moderne (2019); Punta della Dogana, pinault collection, venice (2019); Mudam Luxembourg – Musée d'Art Moderne Grand-Duc Jean, luxembourg (2019); National Museum of Qatar, Doha (2019); Musée Yves Saint Laurent Marrakech (2018); Château de Rochechouart Contemporary Art Museum, Château de Rochechouart (2017); and Sharjah Art Foundation, Sharjah (2016).
public collections
fattal's work is held in the collections of the walker art center, minneapolis; Centre Pompidou, Paris; Centre National des Arts Plastiques, Paris; Musée Yves Saint Laurent, Marrakech; Sharjah Art Foundation, Sharjah; National Museum of Qatar, Doha; Metropolitan Art Society, Beirut; the Sursock Museum, Beirut; Musée d'Art Contemporain de la Haute-Vienne, Rochechouart; Musée LAM, Lille.
shows at Kaufmann Repetto
Demeter and Dionysus, 2019, solo show at kaufmann repetto Milan
Simone Fattal, 2017, solo show at kaufmann repetto New York
Standing Figures, 2016, solo show at kaufmann repetto Milan
[ read more ]
upcoming solo exhibition
2024
Art Explora, Art Explora Foundation and Louvre Museum
selected solo exhibitions
2023
The Manifestations of the Voyage, Portikus, Frankfurt
Thus waves come in pairs, Ocean Space, TBA21-Academy, Venice
2021
Finding a Way, Whitechapel Gallery, London
A Breeze over the Mediterranean, ICA Milano, Milan
While the Angels Are Naming Us, Klosterruine Berlin, Berlin
Simone Fattal: Works on paper, Karma International, Zurich
Simone Fattal: Au Bord du Barrada, Galerie Lelong, Paris
Simone Fattal, Klosterruine, Berlin
2020
galerie Hubert Winter, Vienna
Fix Your Gaze On Saturn's Rings, Bergen Kunsthall, Bergen
2019
Demeter and Dionysus, kaufmann repetto, Milano
works and days, MoMA PS1, New York
2018
Paintings and Sculptures, Karma International, Zurich
Garden of Memory, with Etel Adnan and Bob Wilson, Musée Yves Saint Laurent Marrakech, Marrakech
2017
Watercolours, HENI Publishing, London
L'homme qui fera pousser un arbre nouveau, Musée départemental d'art contemporain de Rochechouart, Rochechouart
Paintings and Ceramics, Balice Hertling Galerie, Paris
kaufmann repetto, New York
2016
Standing Figures, kaufmann repetto, Milan
Sharjah Art Foundation, Sharjah
2015
Balice Hertling, Paris
Karma International, Zurich
2014
Galerie Tanit, Beirut
The Pottery, San Rafael
Espace Kettaneh-Künigh, Beirut
2010
Europia Gallery, Paris
2009
Bonnafont Gallery, San Francisco
2006
Festival Arte Mare, Bastia
The Eileen Reynolds Curtis Museum, Sausalito
2003
Cité des Arts, Paris
2000
Galerie Janine Rubeiz, Beirut
Selected group exhibitions
2023
They Thought We Were Alive and They Run Screaming, Plato, Ostrava
The Assault of the Present on the Rest of Time, Schinkel Pavillon, Berlin
Voices without borders, KINDL, Berlin
The Weight of Words, Henry Moore Institute, Leeds
House of Dreamers, Boghossian Foundation – Villa Empain, Brussels
Beirut and the Golden Sixties. A manifesto of Fragility, MATHAF, Arab
Museum of Modern Art, Doha
Distant Voices, Galerie Max Hetzler, Paris
In the Heart of Another Country: The Diasporic Imagination in the Sharjah Art Foundation Collection, Deichtorhallen, Hamburg
2022
The Milk of Dreams, 59th Venice Biennale, Venice
Dark Light, Realism in the Age of Post Truth, Aishti Foundation, Beirut, Lebanon
In the Heart of Another Country : The Diasporic Imagination in the Sharjah
Art Foundation Collection, Deichtorhallen, Hamburg
16th Biennale de Lyon, macLyon, Lyon
12th Berlin Biennale, Berlin
Sense of Place, Greene Naftali, New York
l'art de la sculpture céramique, Fondation Villa Datris, L'Isle-sur-la-Sorgue
Persons Persone Personen, 7th Biennale Gherdëina, Ortisei/Val Gardena
Beirut and the Golden Sixties: A Manifesto of Fragility, Gropius Bau, Berlin
Etel Adnan & Simone Fattal: Working Together, Fondazione Dalle Nogare, Bozen
2021
Les Flammes. L'Âge de la céramique, MAM – Musée d'art Moderne de Paris, Paris
No Linear Fucking Time, BAK, Utrecht
Horizon, Levy Gorvy Gallery, Paris
AISTIT / coming to our senses, Maison Louis Carré, Bazoches-sur-Guyonne – Kunsthalle Helsinki, Helsinki
Artists' Library: 1989 – 2020, online project for MACRO Museum, Rome
2020
bâtisseurs chimériques, palais idéal du facteur cheval, hauterives
artifices instables, histoires de céramiques, nmnm – villa sauber, monaco
Vent'anni – Twenty Years, 20th anniversary exhibition, kaufmann repetto, new york
gennariello, balice hertling, paris
storefront show, karma international, zurich
Comfort, Friedman Benda, New York
between the sun and the moon, Lahore Biennale 2020, Lahore
2019
Le monde n'est pas nécessairement un empire, Lille Métropole Musée d'art moderne, lille
Please recall to me everything you have thought of, Morán Morán, Los Angeles
Etel Adnan et Les Modernes, Mudam Luxembourg, Luxembourg
The palace at 4 A.M., archaeological Museum of Mykonos, Mykonos
at the still point of turning the worlds, there is the dance, sursock museum, beirut
trade syllables, martinos, athens
Luogo e Segni, Punta della Dogana, Pinault Collection, Venice
National Museum of Qatar, Doha
2018
Lydia Cabrera and Edouard Glissant: Trembling Thinking, Americas Society, New York
Take Me (I'm yours), French Academy, Rome
2017
Take Me (I'm Yours), Pirelli Hangar Bicocca, Milan
MEDUSA, Musée d'Art Moderne de la Ville de Paris, Paris
2016
Why Not Ask Again? Arguments, Counter-arguments and Stories, 11th Shanghai Biennale, Shanghai
Ceramix, Art and ceramics from Rodin to Schütte, La Maison Rouge, Paris
Ceramix, Art and ceramics from Rodin to Schütte, Cité de La Céramique, Sèvres
2015
Ceramix, Art and ceramics from Rodin to Schütte, Bonnefantenmuseum, Maastricht
Take Me, I'm Yours, Monnais de Paris, Paris
Nel Mezzo del Mezzo, Museo d'Arte Contemporanea, Palermo
2014
Karma International, Zurich
American Embassy, Zagreb
Here and Elsewhere, New Museum, New York
2011
Sharjah Biennial, United Arab Emirates
2010
Biennial of the Teapot, National Museum of Arts and Crafts, Shanghai
2009
Paris-Damas, Regards Croisés, Galerie Europia, Damas
2008
Paris-Damas, Regards Croisés, Institut du Monde Arabe, Paris
2007
Nüans Gallery, Dusseldorf
Lilliputh Ceramics, Zagreb
2006
Blue Studio Gallery, San Francisco
Chelsea Space, London
2002
Virginia Woolf: Past & Present, Sonoma State University Art Gallery, Sonoma
Les Greniers de César, Amboise, France
First International Forum of Ceramics, Choueifat
2001
The San Francisco Art Institute, San Francisco
The American University of Beirut, Beirut
2000
The Cairo Biennale, cairo
1994
Forces of Change. Women Artists of the Arab World, The National Museum of Women in the Arts, Washington
1980
poésie murale, Aubigny sur Nère
1978
6th Salon Art et Matière, Musée du Luxembourg, Paris
1979
Museum of Modern Art, Tunis
Public collections
NRW Kunstsammlung, Dusseldorf
Musée d'Art Moderne, Paris
Céline Art Collection, Paris
Thyssen-Bornemisza Art Contemporary Collection, Madrid Dalle Nogare Foundation, Bolzano
Walker Art Center, Minneapolis
Centre Pompidou, Paris
Museum Moderner Kunst Stiftung Ludwig Wien (mumok), Vienna
Centre National des Arts Plastiques (CNAP), Paris
Musée Yves Saint Laurent, Marrakech
Sharjah Art Foundation, Sharjah
National Museum of Qatar, Doha
Metropolitan Art Society, Beirut
The Sursock Museum, Beirut
Musée d'Art Contemporain de la Haute-Vienne, Rochechouart
Musée LAM, Lille
Saradar Collection, Beirut
Aïshti Foundation, Beirut
AlUla Contemporary Art Museum, AlUla, Saudi Arabia
Mathaf: Arab Museum of Modern Art, Doha
The Block Museum, Evanston, Illinois
Public Art commission
2022
Maqam, National Museum of Qatar, Al Zubarah desert, Qatar
2019
Gates to the sea, National Museum of Qatar Sculpture Park, Doha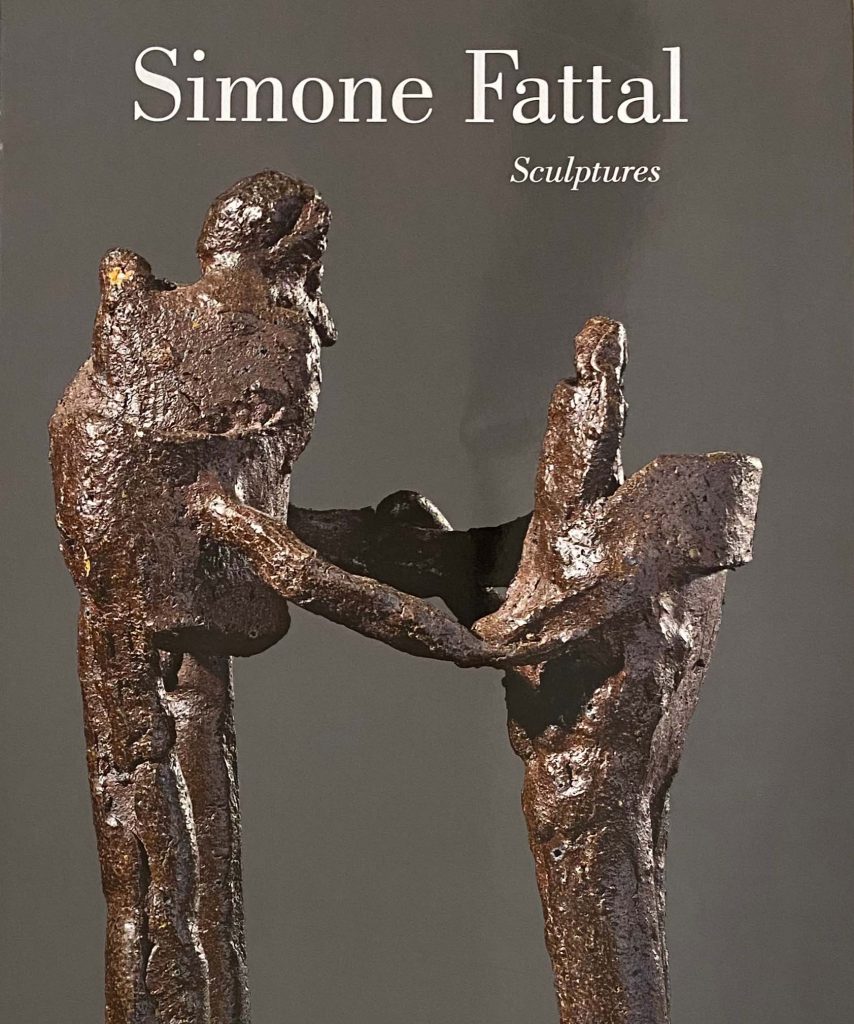 Simone Fattal. sculptures, 2014
The Post-apollo press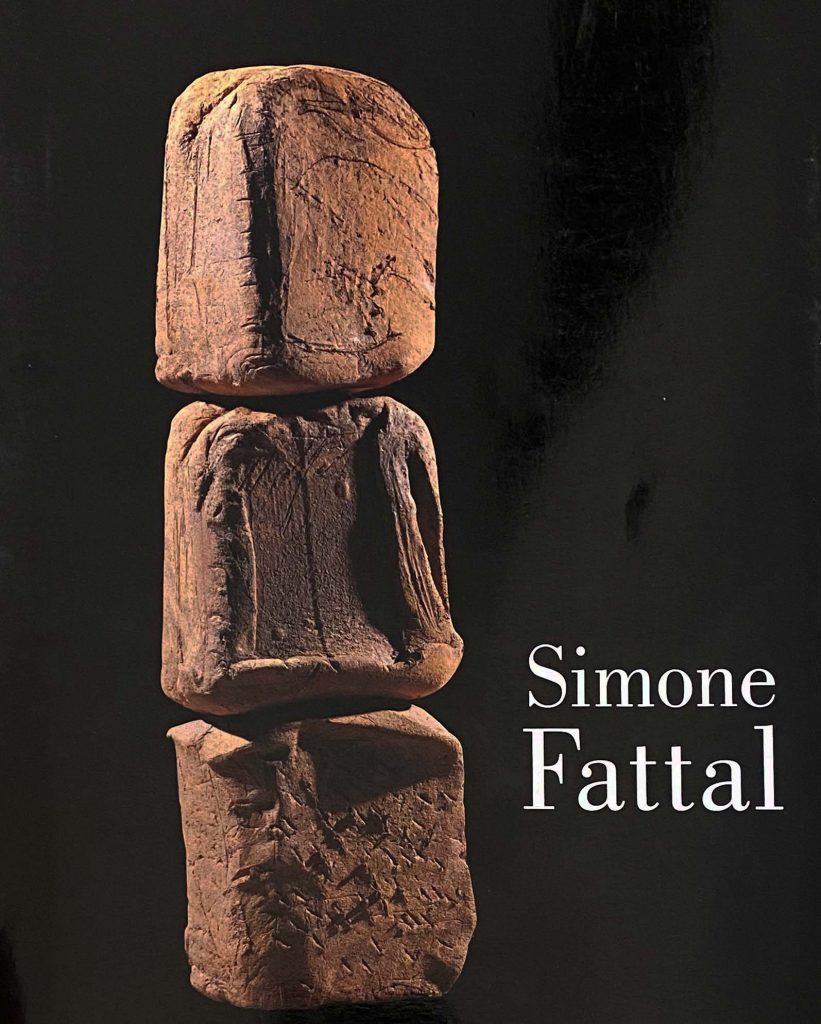 Simone fattal, 2011
The post-Apollo Press